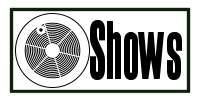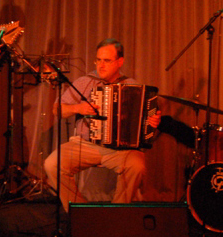 ---
2008
February 2008
February 16, with Nicki Jaine as part of a showcase at The Shubin Theatre, 407 Bainbridge Street, Philadelphia, PA
March 2008
March 1 - I will appear with the famous Mary Bichner and Box Five, at Burlap & Bean. 8 PM , 204 South Newtown Street Road, Newtown Square, PA, (484) 427-4547
March 18, at L'Etage with Nicki Jaine
April 2008
April 12, at Bello Martin Art Studio 148 North 3rd Street, Philadelphia - supporting Nicki Jaine as part of a variety show, 8 -10 pm all ages, no smoking, $15
May 2008
May 24 7 pm - I will appear with Nicki Jaine Band, at The Tin Angel, Philadelphia's premiere music venue, 20 S. Second Street. $10. 21+
May 30 City Kitty Benefit at Studio 34, west Philly. I'll be appearing with Nicki Jaine
---
2007
January 2007
Jan 26 - At Milkboy Coffee, Ardmore, opening up for Broadside Electric, with Nicki Jaine.
March 2007
3/3/07 - with Box Five (my first!) - At Puck, a restaurant with live music located at Printer's Alley, Doylestown, PA (north of Philly, west of New Hope) $12. 8 pm. Opening act TBD.
3/9/07 - my debut at THE TIN ANGEL will be a double feature. First I play with Nicki, then later on I play in Box Five. 20 South 2nd Street, Philadelphia, PA. $10 in advance (I have tickets to sell, so just ask...) Or - buy tickets ONLINE in advance - there is a good chance this will sell out, Box Five sold the room out last time. Really. 7:30 PM sharp (early show)
3/23/07 - With Nicki Jaine, at the pussycat Lounge, 96 Greenwich St., New York City, 8 PM 21+, ID required
3/27/07 - I'll be playing with Nicki at Johnny Brenda's, 1201 N. Frankford Ave., Philly (Northeast). We are the opening act for HUMAN WINE, a unique band from Boston. 8 PM, $7, 21+, ID required
May 2007
May 2 - with Nicki Jaine at L'Etage, opening for Martha Graham Cracker Cabaret.
May 19 - I play with an acoustic version of Box Five at Burlap & Bean Coffee House - 8 PM , 204 South Newtown Street Road, Newtown Square, PA, (484) 427-4547.
May 20 - I play with the Nicki Jaine Band at L'Etage, 624 South 6th Street, Philadelphia PA, 7:30 PM, $7. Tickets available NOW
May 24 - I play with Nicki Jaine at Lansdowne Folk Club, 84 S. Lansdowne Ave, Lansdowne PA. 7:30 PM, $15
June 2007
June 1, Fergie's pub , 1216 Sanson, Philadelphia. I play with Nicki, we open up for Kenn Kweder, Philadelphia's all-time rock music King!
June 14 - "XIX" at the Bellvue Hyatt, Philadelphia (with Nicki Jaine). Details TBA
June 23 - Nicki Jaine and I will be playing at some point during the Kimmel Center's Solstice event, probably between 8 and 10 pm. Check back for details.
June 27 - (Wednesday) Noon, Commerce Square, outside in Philadelphia on Market Street between 20th and 21st streets. Free Show with the new Nicki Jaine Band.
June 28 - 8 PM, with Nicki Jaine at L'Etage again (6th and Bainbridge, Philly).
July 2007
July 12, at Rustic Music in Center City. With Nicki. Free
August 2007
August 3 - 5 PM, Philadelphia Museum of Art, with the new, expanded, Nicki Jaine band, concert is free with admission to museum.


September 2007
September 14, Galapogos Art Space, 70 North 6th Street, Brooklyn, Nicki and I are opening for Ziaf, $12.
October 2007
Oct 6 - The Rotunda, on the Penn campus in west Philly. Plus Lots of other acts including the Ambitious Orchestra and Corn Mo. $5.
November 2007
Nov 8 - The Marlene Dietrich Birthday Party at The Stockton Inn, Stockton, NJ. 8 PM, $15 + $10 drink minimum. Very nice restaurant with cabaret atmosphere. Stay for dinner! Check out Nicki Jaine.com for details.
Nov 25th - Nicki and I will be playing at Andrea Clearfield's Salon, Philadelphia. Lots of other great acts, it will be fun.
November 30, with Nicki Jaine, The Curiosity Shoppe 529 S. 4th Street Philadelphia, PA 8:30 Free
December 2007
December 22 - at the Westin, Liberty Place, Philadelphia, an intimat eshow at the hotel's lounge. Free


22 Shows, plus one time sitting in with my cousin Greg in West Chester. 2007 was busy, thanks to all of you who came out!
Photo: Ola Rinta-Koski, taken live at the Jazz Station, Brussels, July 2006.